Learn more about Brownells Arms and our store policy
Cancelling a Firearm (In Store): If the purchaser cancels the purchase of a firearm from our store in person, there is a cancellation fee of $100.00. If the purchaser has a multiple firearm purchase, the cancellation fee for the purchase is $100.00 plus $50.00 per each additional firearm purchased. The remaining balance will be reimbursed to the purchaser within 30 days from the date of request. The cancellation fees apply to all purchases cancelled including the denial of a pistol permit or background check. Special Ordered Firearms are reimbursed at 75% once the item has been resold.
Cancelling a Firearm (Online Store): If the purchaser cancels the purchase of a firearm purchased from our online store, there is a cancellation fee of 25% of the total purchase. Failure to cancel an order immediately may result in additional shipping fees if the product needs to be returned to the distributor. Your purchase will be reimbursed to the purchaser within 30 days from the date of request.
Returning a Firearm: All Firearm Sales are final. Once the background check is completed and the individual walks out of the store, the sale is final and the firearm(s) cannot be returned. If you are not satisfied with the firearm and/or you wish to return it, Broker Gun Shop can offer to purchase the firearm back. It does not make a difference if the firearm is still new in the box and unfired. Broker Gun Shop reserves the right to refuse to purchase the firearm(s) back.
Returning Products: All Ammunition Sales are final, even if it is unopened. Other products can be returned within 30 days for reimbursement with sales receipt. Product returned after 30 days, will be issued store credit. No returns after 45 days.
All store credits expire one year from issue date.
All products must be packed in the original packaging, including any accessories, manuals, documentation and registration that shipped with the product.
Please note that we do not permit the return of the following products:
   1. Special orders and products that are custom configured to your specifications.
   2. Products sold "as is" or "used" or that have been installed or used after receipt.
   3. Firearms and Ammunition once transferred to buyer.
   4. Illumination devices, electronic sights, optics and night vision equipment.
The customer is responsible for shipping charges on returns, as well as for shipping charges on shipments that are refused.
NEW YORK COMPLIANCE
NY State: Please note to own a handgun you must obtain a pistol license (which we assist with). To own a rifle/shotgun, you must present a valid government ID (Driver's License) and complete a NICS Background check when the firearm is transferred to the owner.
NY City: Please note to own a handgun you must obtain a pistol license (which we assist with). To own a rifle/shotgun, you must obtain a rifle/shotgun license (which we assist with). You must present a valid government ID (Driver's License) and complete a NICS Background check when the firearm is transferred to the owner.
NY COMPLIANT FIREARMS (Quick Reference):
NY State: All Firearms must not have a magazine capacity of more than 10 rounds. The firearm must be listed as no more than 10 + 1 (which is a 10 round magazine + 1 round in the chamber). To own a Semi Automatic rifle, you must either remove the pistol grip OR permanently attach the magazine to the firearm. "Most" rifles can be modified on site by our gunsmith.
NY City: All Handguns must not have a magazine capacity of more than 10 rounds. The firearm must be listed as no more than 10 + 1 (which is a 10 round magazine + 1 round in the chamber). All Rifles/Shotguns must not have a magazine capacity of more than 5 rounds. PLEASE NOTE AR-15 Style rifles are not compliant in NYC.
ANY ITEM ORDERED THAT IS NOT NY COMPLIANT WILL INCUR A RESTOCKING FEE AND/OR SHIPPING FEE TO RETURN THE ITEM TO THE DISTRIBUTOR.
FIREARM / AMMO / ACCESSORY TRANSFERS
Firearm Transfers: $75.00 + $25.00 each additional firearm when delivered in the "same" order.
Transferred firearms that are received on two different dates would be $75.00 + $75.00. Firearm Transfers are accepted from Federal Firearms Licensed Dealers (FFL) ONLY and a copy of their license must be received prior to the transaction or accompany the firearm upon arrival. All Firearms are allowed to be picked up the next business day from delivery to allow all state / federal log in processing to be completed. Please do not pick up on the same day without checking with our staff prior to arrival. To check the status of your firearm transfer, please obtain the tracking information from the party you made the purchase from. We are not responsible for informing when transfers arrive.
Ammo and Accessory Transfers: $1.00 per box of ammo/accessory. $10.00 per case of ammo.
Ammo Transfers are eligible to be picked up the same day.
Disclaimer: Brownells Arms shall be held harmless for any damaged cartons, broken boxes, missing ammo & products, and/or any other mishaps for firearm and/or ammunition transfers shipped to our store on your behalf. We act as the transferee for the transferrer, which is a third party between you and your purchaser. We do not assume any liabilities and are not responsible for your transactions. If anything needs to be returned, transfer fees will still be owed to Broker Gun Shop as well as all applicable shipping and processing fees.
GENERAL FIREARM SALES
All firearms, magazines, receivers and restricted law enforcement items are sold and shipped in accordance with all existing federal, state and local laws and regulations. Many of the firearms, magazines and parts for sale on this website may be restricted or prohibited in your area. Please check your local and state regulations before ordering. You must be 18 or older to purchase a long gun and 21 or older to purchase a handgun per ATF rules, but state and local laws may differ and you will need to check your local laws before purchasing a firearm.
All new firearms are shipped in the original manufacturer's box, with magazine(s), accessories and applicable warranty. Firearms requiring warranty work must be returned to the factory within 1 year of purchase for repair. Accessories and special order items not normally sold by our store will not be covered under warranty even if these products are part of an integrated firearms package, unless we have guaranteed the entire package in writing. Please contact the original manufacturer for warranty information on all accessories and special order items.
Used Firearms: The seller provides all descriptions for used items. All descriptions for used items are honest and based on actual items being offered for sale. Items being sold in this manner will be marked as such. All sales on used items are final. Photos will be provided when available.
CUSTOMER SERVICE
If you encounter any problems with your order or the checkout process, or if you have any questions about the status of your order, simply contact our customer service staff through our Contact Us page.
AMMUNITION PURCHASES
You must be 18 or older to purchase rifle or shotgun ammunition and 21 or older to purchase handgun ammunition. All ammunition will be shipped ground with adult signature required. Always make sure to use the correct ammunition for your specific firearms. Check your local laws for any other regulations. All ammunition sales will comply with local and state laws and will not be shipped to any restricted areas. Brownells Arms reserves the right to refuse the sale of ammunition to any individual for any reason. Brownells Arms reserves the right to verify the individual has a valid handgun license or law enforcement ID.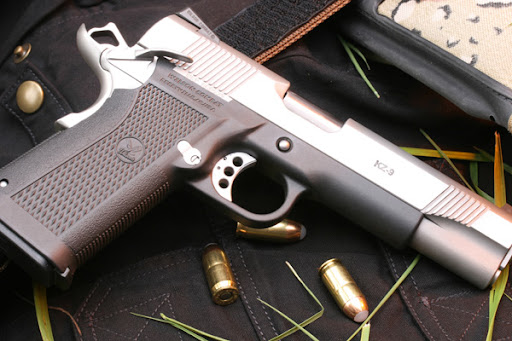 CONSUMER DATA PRIVACY
We respect your privacy and are committed to protecting it.
The Credit Card Billing Information, Shipping Information, and Contact Information in our checkout process are required in order to process your order and deliver the product to you. We store some information for accounting reasons. Your information will not be shown to third parties not involved in the transaction, nor used to send you any unrequested information. The entire Checkout process is handled through a secure SSL-encrypted connection.
The Credit Card Billing Information is sent directly to our payment provider who processes your credit card transaction. The credit card information is neither recorded nor stored by us, and it can only be accessed by our payment provider. Each transaction has a very high level of security. Your credit card details are sent directly to the payment provider over a secure SSL-encrypted connection. They are not processed on our servers at any stage of the transaction, nor are they stored on our server.
SECURE TRANSMISSION
All information collected during the checkout process is transmitted via industry standard Secure Sockets Layer (SSL) featuring 128-bit encryption. A Secure Sockets Layer (SSL) Certificate creates an encrypted link between a website and a visitor's Web browser. This link ensures that all data passed between the website and the browser remains private and secure.
ORDER FULFILLMENT
All orders are shipped promptly from our warehouse or in-store inventory within 3 – 10 business days using UPS, FedEx, or USPS. Due to COVID-19, shipments may be delayed up to 4 weeks (the average has been 2 weeks).
ONLINE PRICE & DESCRIPTION ERRORS
Our online inventory changes every 15 minutes. Occasionally an item may appear on the site by mistake or the item's description may contain a typographical error. We do not guarantee that titles, descriptions, pictures or prices on our site are error-free. We reserve the right to refuse any order including but not limited to orders for items with errors in the description or price. In the event that we cancel an order we will not charge the customer's credit card or we will refund the money.
If an item's description contains an error such as incorrect photo, price, accessory or description and a customer makes the order, we will not process the order without first contacting the customer. If the order is mistakenly shipped, we may advise the customer to return the item in an unopened condition and we will refund the customer. By placing an order, the customer agrees that $dealerName will be the final arbiter of discrepancies in the online catalog.
WEBSITE DISCLAIMER
Other items available for sale not listed on this website include discontinued parts or parts for firearms no longer produced. Please contact us if you have any questions regarding parts for firearms no longer produced (such as Vietnam era upper receiver units, obsolete fire control parts, etc.).
All items on this website are subject to change without notice. This includes item availability, one-of-a-kind items, and pricing.
---
CUSTOMER TESTIMONIALS
"I am a Texas Peace Officer and made my first purchase from Brownells today. I ordered a $20 gun case. Your staff treated me as though I were placing a $10,000 order. I don't see dedication, pride, and service like this every day! I'll be a customer for life! Thanks to all!" – R. Bostic
"It sure is a pleasure doing business with you. Brownells sets the business standard in which every company should try to attain. With that said, Brownells is the only supplier I do business with. My philosophy is that if Brownells doesn't have it, I don't need it!" – Jeffrey G.
"There are many good things I can say about Brownells, but the one thing I like most is that…If you guys sell it…It has to be good. I know Brownells does not sell junk. I can trust your name and your company, and to trust someone in today's business world is a rare thing…Thank You!" – Kevin D.
"After 35+ years in the restoration business, I can sincerely say that Brownells is always top shelf when it comes to service and quality products. May you go on forever!" – William L.
"Thanks for the great service! My products arrived in a timely fashion with a refund check enclosed for my overpayment. You'll be getting more orders from me…Thanks again!" – Mike B.
"Your attention to detail, and professional aptitude are reasons why others and myself come to Brownells for products and service." – Rodman S.
"Thank you folks for your professionalism and continued support. Brownells is the number one company in Gunsmithing supplies and related items in existence. A position you do not take for granted nor boast. You have dealt with me fairly and honestly in every interaction and that is very much appreciated. Please keep up the good work and I look forward to continuing to do business with Brownells in the future." – David L.
"I spoke to a Brownells Gun Technician after having had contact with three other so-called experts from three other companies that day. He was the only tech. person that knew what I was talking about. He was polite, patient, and knowledgeable. He solved my problem. Next time I will call you first!" – George R.
"I have been a Brownells customer for about 5 years and the service you deliver is the very best…I have never gotten anything but a friendly voice when talking to your people and have never been cut short when I needed technical assistance, even on the smallest problem. The products are excellent, but now and then a bad one sneaks through, only to be taken care of in the most convenient way…Thank you for keeping the love I have for guns so pleasurable by your service." – Earl H.
"Often, a customer like myself, the 'little guy,' sends a request for information, like I did, to a company wondering if he will ever hear anything back…you responded to mine in a matter of hours! It's no wonder that your company has the fine reputation that it does, keep up the good work." – Steven W.